CatGenie 120+ GenieDome for Self-Washing Cat Box
Code:
KCGD
Product detailed description
GenieDome is a large plastic hood that fits perfectly over CatGenie bowl.
This Dome is great to prevent eventual odors that can appear between two cycles. At the same time, it prevents washable granules from being kicked out of the bowl and ending up all over your floor.
GenieDome gives all the privacy that the cat desires and helps you to keep your home clean and fresh.
GenieDome - the hood is made of 4 removable parts. Two snow-white parts form the hood and the other two pearl gray parts form the cat box CatGenie sidewalls. This color scheme perfectly suits the CatGenie unit and it provides a modern and stylish look.
If your cat is used to complete privacy, we recommend ordering also a transparent Genie door as a final touch for your CatGenie.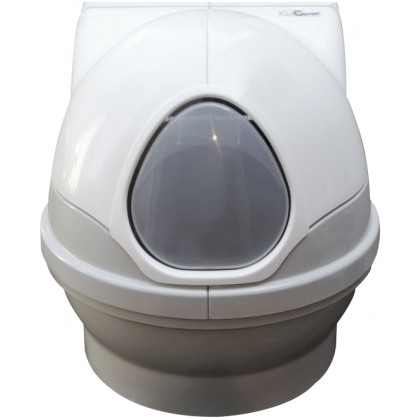 The height of the Dome is 45 cm from top to bottom.
Additional parameters
Category

:

Self-Washing Cat Box CatGenie
Warranty

:

1 year
Weight

:

2 kg
Dimensions (h / w / d)

:

(h x w x d): 25 x 45 x 37 cm
Manufacturer

:

Petnovation ltd.
Warranty

:

24 months