CatGenie Consumables Combo
Code:
KCGSET
Product detailed description
Fresh Scent SaniSolution is a cartridge used for cleaning CatGenie cat box.
This fresh scent version keeps CatGenie area clean and fresh while filling your home with a light, fragrant aroma.
SaniSolution cartridge fits into CatGenie processing unit and automatically dispenses the exact amount needed for a cleaning cycle.
One cartridge lasts up to four months for one cat or 120 washes on manual/timer cleaning and 240 washes on Cat Activation.
SaniSolution vet-approved and eco-friendly formula is 100% safe for pets, people, and the planet.
During each cleaning cycle, the SaniSolution will thoroughly clean the bowl and granules.
When SaniSolution Cartridge is running low CatGenie will alert you with a series of lights and beeps.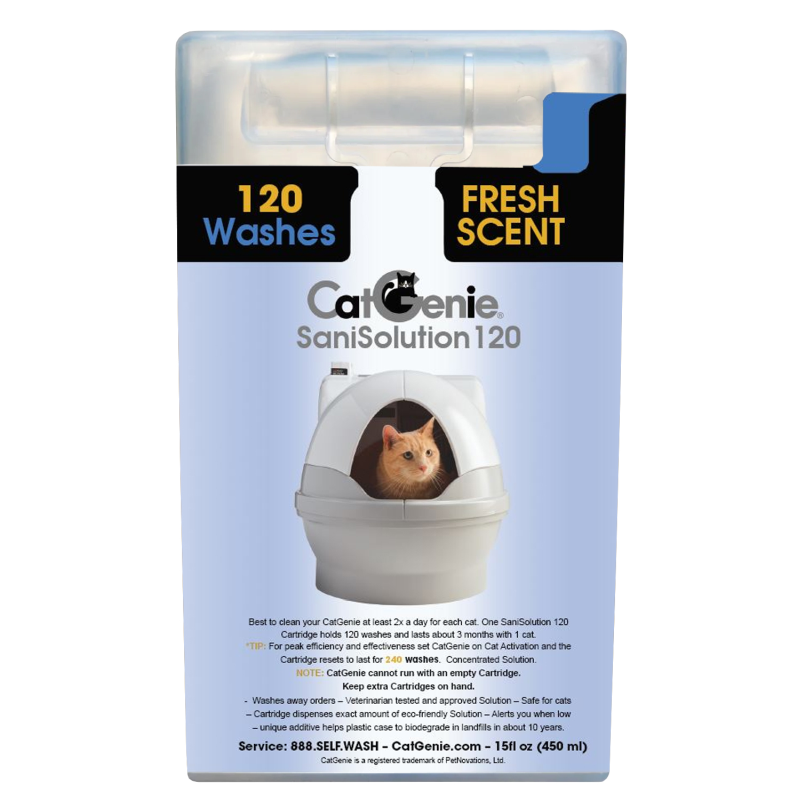 CatGenie Maintenance Cartridge is used for regular manutention of CatGenie cat box.
It effectively removes lime and grime that builds up in hard to reach places and helps to keep the device running efficiently.
One box of this cartridge can be used for 4 cleans so it lasts up to one year since it's recommended to use it every 3 or 4 months.
Maintenance Cartridge fits into the CatGenie like a regular SaniSolution cartridge and runs a similar cleaning cycle.
Like every other appliance, also CatGenie should be manually cleaned. We recommend taking apart the CatGenie and clean all the parts to prevent eventual blockages.
Maintenance Cartridge definitely helps to keep the whole appliance working well and it makes manutention more efficient and easy.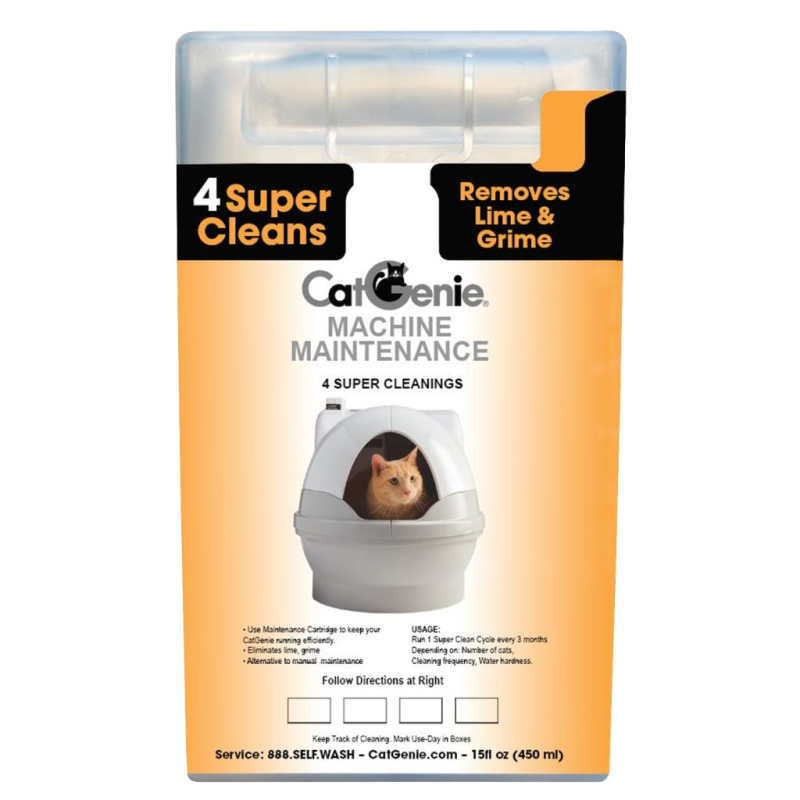 CatGenie Washable Granules are nothing like traditional cat litter - you don't have to scoop, replace, or throwing them out, moreover, they don't create bad smell and dust. Even so, they satisfy a cat's natural need to dig and cover.
CatGenie granules are made with natural and synthetic biodegradable substances and are 100% safe for cats, humans, and septic systems.
Although the Granules never need changing, over time, the number of granules in the bowl will decrease due to getting caught on your cat's paws. For this reason, we recommend having always one box of CatGenie Washable Granules more.
Usually, one box of Washable Granules will last up to 6 months.
Granules can naturally degrade in septic systems within 9 months.